Chicken Tikka Masala
The national dish of Great Britain turns out to be super easy to make at home. And with our variation based on rotisserie chicken, it's extra cheap too. I very rarely buy meat, but rotisserie chickens are so cheap I find them hard to pass up. For a vegetarian alternative, replace the chicken with an equivalent mass of paneer. Plaintext version.
Ingredients:
One whole roasted rotisserie chicken (around 2 pounds of meat)
4 tbsp vegetable oil
2 tbsp butter
4 medium onions
6-8 tbsp chicken tikka masala paste (see below for recipe)
2 red peppers
3 400g cans of diced tomatoes
2-3 tbsp mango chutney
2/3 cup creem or whole milk
2/3 cup plain yogurt
salt to taste
Chopped cilantro garnish
Basmati rice, to serve
Tikka Masala Paste
You can buy tikka masala paste in Indian groceries and usually in the international aisle of your regular grocery store. But it's also easy to make fresh. To do so, in a blender or small food processor, whizz together 5 gloves of garlic (or a heaping spoonful of diced pickled garlic), 1 large knob of ginger (or a heaping spoonful of ginger paste), 1 red chili, deseeded and roughly chopped, 2tsp each of ground cumin and ground coriander, 1 tsp each of turmeric, paprika, and garam masala, and the seeds from 4 cardamom pods (or a healthy sprinkle of cardamom powder). Add vegetable oil as needed to bring the paste together. This lasts indefinitely in the freezer, and even in the fridge for months.
Preparation
First, remove all of the meat from the chicken, and chop it into little bits.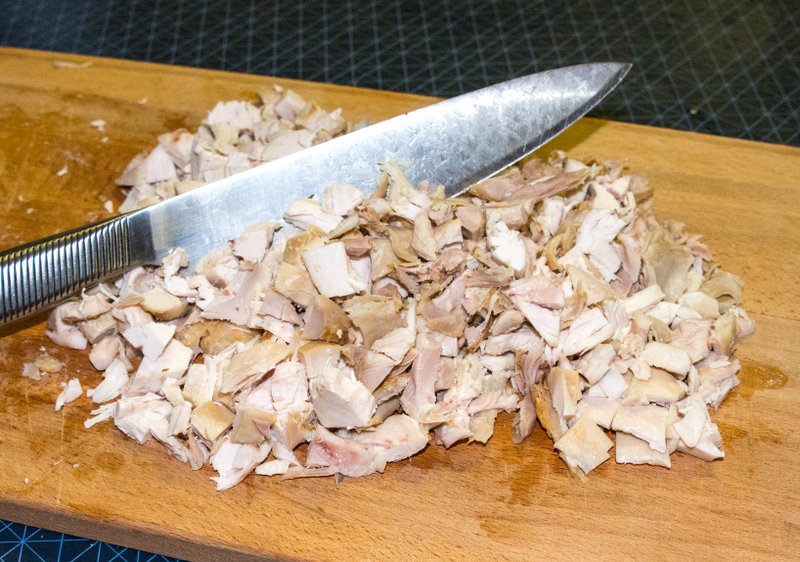 Then, roughly chop up the onions and sauté them in the vegetable oil and butter until they're completely soft. While they're cooking, deseed and roughly chop up the red peppers. Add the the red pepper, tomatoes, and masala paste to the onions and let them simmer for a few minutes.
Use an immersion blender to turn this into a smooth sauce. It should look something like this: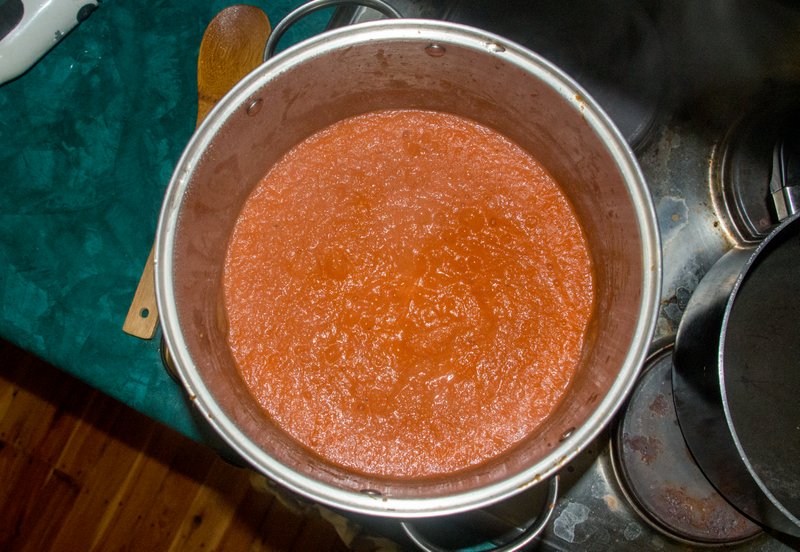 Add the chicken, chutney, cream, and yogurt, and stir well. Add salt to taste, and additional CTM paste if you want to adjust the flavor. We sometimes add chili powder at this point as well if the CTM paste isn't giving it enough of a kick; this is a little variable depending on the heat in the red chilis used to make the paste.
Serving
Serve with basmati rice and garnish with fresh cilantro. We recommend putting a few cracked cardamom pods and a sprinkle of salt in with the rice when you cook it.