Beanoa
Beanoa, or jalapeanoa depending how spicy you make it, is the all-purpose crowd-pleaser that never fails to invite recipe requests. It is also extremely healthy, so pig out! Plaintext version.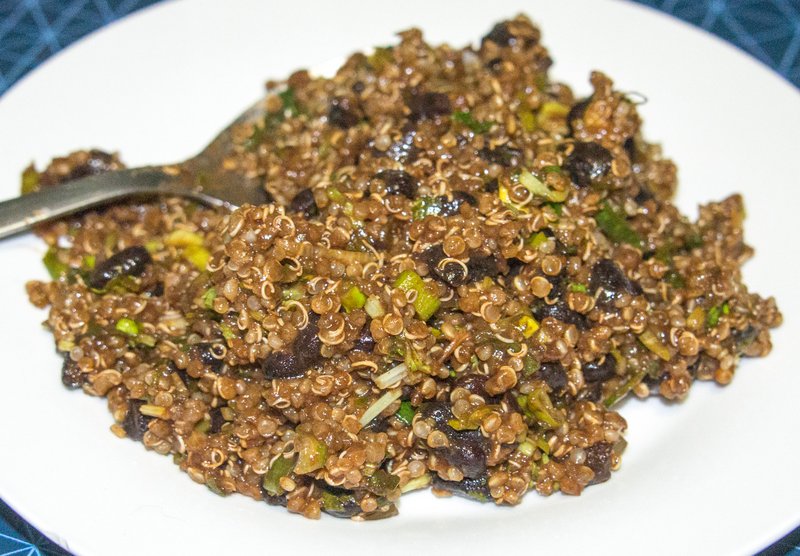 Ingredients:
1 cup quinoa
4 green onions, thinly sliced
1 can black beans, drained, or 3/4 cup dry black beans
¼ cup cilantro
3 tbsp olive oil
2 tbsp lime juice
2 tbsp balsamic vinegar
1 tbsp soy sauce
2 tsp agave nectar, or honey, or brown sugar
½ tsp kosher salt
2 jalapeños
1 tsp diced garlic
Preparation
Using dry black beans is recommended - the flavor is not even comparable. If using dry beans, start them boiling with approximately 1/2 - 1 tsp salt added to the water. It is not necessary to rinse or soak the beans ahead of time. After approximately one hour the beans will be nearly soft, and at this point you should turn up the heat and let all of the water boil off. You need to stir frequently to prevent burning during this process. The end result will be creamy and very flavorful black beans that have retained all of their flavor instead of draining it off.
While the beans are cooking, cook quinoa in a rice cooker or pot with approximately 2.5 cups of water until all water is gone and the quinoa is fluffy. Then mix in the beans, either canned or cooked, and the diced jalapeños, cilantro, and garlic. The jalapeños should be deseeded if you are sensitive to spice, but leaving the seeds in provides a delicious kick.
In a bowl, mix the remaining ingredients together. Stir in with the quinoa mixture and adjust the flavor as desired.
Serving
Quinoa is great warm or cold, on its own or with chips or pita bread or tortillas, and as a complete meal or a side dish.